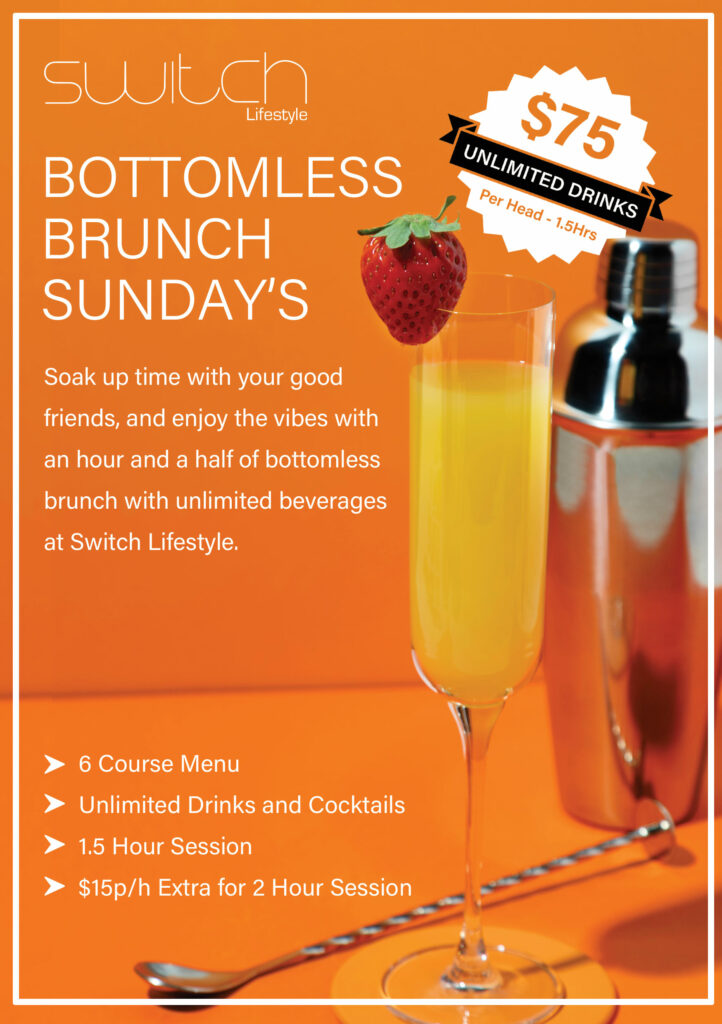 Available Sunday's from 11:00AM to 3:00PM

SMOKED TOMATO + BUFFALO MOZZERLLA CRUSTINI
MUSHROOM + GOATS CHEESE ARANCINI
truffle, burnt onion aioli
avocado, chicken, salad mix, oak lettuce, chives, sesame brioche bun
kim chi mayo, cabbage slaw, coriander & peanut sesame crumble
MINI SALTED CARAMEL + CHOCOLATE TARTS
fresh freeze-dried raspberry
Bottomless Drinks & Cocktails
Unlimited for 1.5 Hour Session

Bottomless Brunch deal is not in conjunction with any other deals
Bottomless Brunch deal runs every Sunday from 11:00AM to 3:00PM
Bottomless Brunch sessions run for one and a half hours
Option to extend Bottomless Brunch session to two hours at an extra $15 per head
Deal cannot be redeemed for cash or restaurant credits
We love walk ins, however, we recommend booking ahead to avoid disappointment.
During busy periods (usually Friday's and Saturday's 6pm to 8pm, Sunday's 12pm to 2pm) please expect a longer wait time of up to 45 minutes. Please also note that some menu items take longer to prepare.
Bookings must be made at least two hours in advance
Switch Lifestyle is fully licensed, and does not permit BYO
Switch Lifestyle does not offer split bills. Please plan ahead of time with your group who will pay.
To make changes or cancel please phone us direct
Please note, a 1.25% surcharge applies on all card transactions
Please note, a 15% surcharge applies on Public Holidays
We care about your dietary needs. Please notify staff of any allergies. Many of our products contains peanuts, soy, sesame, tree nuts, dairy, shellfish & or wheat. Please be aware that although we take precautions to prevent cross contamination, we can not guarantee 100% that cross contamination will not occur as our products are prepared & handled on site
Bottomless Brunch sessions are bookings only, no walk-ins. Please call Switch Lifestyle on (03) 9704 4333 to make your reservation, or use the booking widget below. 
Book a Session Time Below
Please Note 
We'll try our best to maintain the seating preferences for all the bookings but can't guarantee the seating request. Bookings will be allocated seats either ground floor inside, upstairs or Outside.
Find Switch Lifestyle on Google
Please note at switch we operate in the highest of standards.
Every dish is served as soon as it is ready. there MAY be slight delays in dishes reaching your table at the same time, as we like to ensure every meal is cooked to perfection.
(vg) vegan (v) vegetarian (gf) gluten free (p) pork
ALLERGENS: We care about your dietary needs. Please notify staff of any allergies. Many of our products contains peanuts, soy, sesame, tree nuts, dairy, shellfish & or wheat. Please be aware that although we take precautions to prevent cross contamination, we can not guarantee 100% that cross contamination will not occur as our products are prepared & handled on site.
Prices incl. GST. Please note, a 15% surcharge applies on public holidays. NO SPLIT BILLS.